"The Light Chimes"• Wingfield Park Amphitheater, Reno NV
Mixed Media: Acrylic, stainless steel, copper, electronics and software
"The Light Chimes" (video) is a light sculpture for the Wingfield Park Ampitheater in downtown Reno, October 2017 thru March 2018.
Comprised of nine 9-foot tall light chimes, suspended from the Wingfield Park Amphitheater ceiling structure, each software-driven light cluster consists of six light rods that use photographic images of Reno street murals, the artists own work, and time-lapse images of the Milky Way Galaxy to provide the source color palettes from which the color animations are derived.
"The Light Chimes" is produced with sponsorship from the City of Reno Arts and Culture Commission.
The Light Aquatic • 2014 - ongoing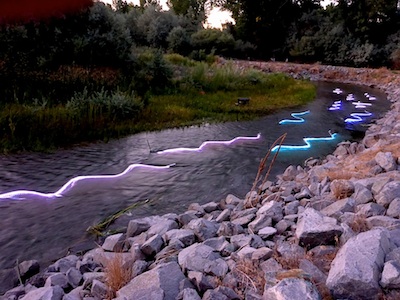 Mixed Media: LED strips, PVC, electronics and software • 100' x 20'
A site-specific light sculpture for select underwater environments.
Photographs from various street murals in San Francisco's Mission and Tenderloin districts are the images sources that drive the underwater color animations. The intent was to experience the juxtaposition of urban color palettes in the desert environment, as well as the juxtaposition of submerged electrical elements.
The Light Aquatic is the first in the "Available Light" series of light sculptures that examine various juxtapositions, transformations, and superimpositions of images sources and environmental context, as rendered by each sculpture.